IBARRE rural guesthouse is in the Basque town of Antzuola, in the Debagoiena region, in the heart of Euskadi. Only 3 Km away from Bergara and 5 Km from Zumárraga and less than 40 minutes by car from the Basque capitals: Bilbao, San Sebastián and Vitoria.
Charming rural house made of stone and wood, respecting the environment and the architecture of the area. In a Basque and family environment. In the middle of the nature. Ideal to escape from the routine, noise and to connect with nature. Outside the guest house we have a playground for children and farm animals which children love to interact with.
Inside the house we have a living room with a fireplace, television and seats that invite you to relax and enjoy the company and tranquility. There is Wi-Fi connection in all the house. Rooms have wooden floors and rustic decoration. All rooms have free Wi-Fi conection, television and private bathroom. Some rooms have a private balcony.
We offer breakfasts prepared with fresh and own products such as cakes and homemade jams, fresh fruit and eggs from the establishment, etc.
We can provide you with tourist information about the area and the activities of the region. You can also visit the Antigua, Arantzazu and Loiola temples, and enjoy the variety of their landscape and the unquestionable historic-artistic and cultural value they have.
In this area there are many hiking trails that invite you to take walks through the highest mountains in the Basque Country and excursions in the middle of nature. Practise outdoor sports or simply take a family walk. Enjoy the sun, the pure air, the interaction with nature and animals, breaking the daily routine.
IBARRE, is also an ideal place for business meetings
Euskeraz egiten dugu. We speak english. Wir sprechen deutsch.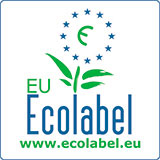 If you are a tourist in Euskadi is because you value nature, the landscape and the environment.
Therefore, to offer you the best environment, we have obtained the European sustainable tourism label. ECOLABEL
What do we do to be sustainable?
At Ibarre we are involved in sustainable tourism and we have adopted the following measures:
» We generate energy for our own consumption and use renewable energy.
» We use the right water quantity.
» We separate waste and reuse organic waste.
» Our agriculture is ecological, without chemicals or pesticides.
» At breakfasts we offer food from local and small producers.
We are committed to:
» Integrate sustainability in our management.
» Support the well-being of local communities.
» Generate less waste.
» Consume less water and not pollute it.
» Use ecologically efficient processes.
» Promote renewable energies.
» Learn about how to travel responsibly.